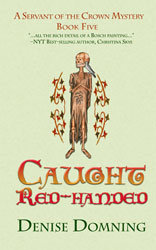 Caught Red-Handed, the fifth book in my Servant of the Crown mystery series, is now available on Amazon. It's a tale of the Medieval walking dead.
Welcome to the Farm on Oak Creek, eight acres of slowly improving red earth (it originally looked like Mars had exploded!) on Oak Creek in northern Arizona.  I started with chickens, then there were turkeys and Jersey milk cows. A few years ago, I exchanged Jersey cows for Dorper Sheep, a South African breed that doesn't need to be sheared and gains all their weight on grass alone (however, they prefer pig food), after an acquaintance informed me that they are "stupid simple" to raise.  Stupid simple I can do!  Then I fell in love with pigs. Oh, how they make me laugh!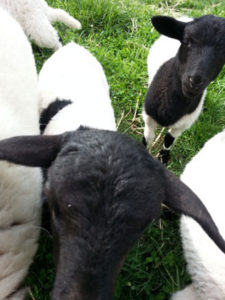 But with livestock came the predators: coyotes, bald eagles, black hawks, mountain lions, and, worst of all, raccoons.  Dang those nasty creatures!  They kill just because they can; think dogs with opposable thumbs.  (Five chickens in one night–they reached in through the chain link and killed the birds with no expectation of being able to eat them.)  That's why I have livestock guardian dogs. I lost my beloved Moosie, (an Akita/Sharpei mix) this year. Bear (a Hungarian Kuvasz) is now training his new partner, Radha, an Anatolian Shepherd. He's as thrilled as I am to have a puppy on the property.
So come on in. Follow my adventures as I do my best to create a sustainable, working farm while also writing mystery novels.