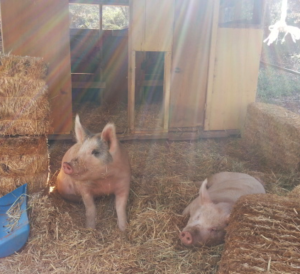 So before I throw myself into another recipe, I need to make a porcine update.  The day when I have one piggy instead of two is drawing rapidly closer, but I really thought I was going be short a pig two days ago. That morning I was drawn to the door by a strange squeaking sound.  When I looked out, I discovered that Boinker, the smaller, bolder of my two girls and the one I've agreed to breed rather than eat, was squealing like I was gutting her alive.  From the porch I watched as she paced back and forth across the pasture.  Meanwhile Oinker was dozing in the sun in what seemed complete unconcern for her sister-sow.  Boinker tried to lay down with OInker, but almost immediately hopped up and started pacing again, squealing all the while.
Worried that she was hurt, I rushed down to look her over. It was a long walk because by then she'd paced to the far end of the property.  Much to my surprise, when I joined her she looked up at me with the same "Oh, there you are! I was just wondering where you were" look she always gives me.  There was no sign of physical injury.  I gave her a good scratch, then the moment I turned to leave, she started squalling again.
That left me wondering if she'd eaten something she shouldn't have, like poison ivy root.  Or perhaps she'd swallowed something that had splintered or otherwise got caught in her gut.  I made a panicked call to a friend with more hog experience.  He showed up later in the day.  By then, the still-squealing Boinker had broken through three gates.  We found her eating my precious spinach up by the pump house.  She looked at us, no sign of distress in her eyes, swallowed her mouthful of spinach, then began that high-pitched squealing again.  That's when the dogs solved the mystery by doing something really gross that doesn't bear describing.
"Oh," says I, "I think she's in heat."   At which point my friend replied, "I didn't even know pigs went into heat."  Apparently at least one of them does. And just as I expected, Boinker is once again her usual quiet but piss-and-vinegar self.  Holy Toledo, is she going to be doing this next month?  If so, then I need new gates. No, I need a boar, now!  Please Santa, get her pregnant and save my farm!
Now, onto the recipe portion of our program.
Back when I was a teenager (oh so many decades ago), my grandmother made me a present of a cookbook that had been put together by the elderly women of her church's congregation. If I remember rightly, the congregation of that particular church was pretty much nothing but elderly women, most of them of Scandinavian extraction.  (I totally get Lake Woe-be-gone.)
I immediately fell in love with the Highlands Lutheran Church Fifteenth Anniversary Cookbook. There were recipes in that spiral-bound tome I could never have dreamed up (or would have wanted to dream up) as well as recipes that made me giggle, because even at 17 I recognized what was missing.  Take the first recipe for yeast bread in the "Breads" section, which includes these instructions:
"In mixing bowl, dissolve yeast in water; add shortening, salt, sugar and half flour.  Beat well about 2 min.  Put in the rest of the flour, then put dough on a greased pan, 9 x 5 x 3.  Bake at 350 degrees for 40 min. and at 375 degrees for 5 min. more.  This makes very good buns and rolls too."
If you didn't notice the missing steps, I've laid them out for you.  Right after "Put in the rest of the flour" add "Knead dough until smooth and elastic. Round and place in greased bowl. Let rise until double, punch down; form into a loaf, let rise again".  Whoops.  I still smile thinking about what that bread might look like if someone followed the directions exactly.
During the holiday season I return to the pages of this cookbook for the few items I can't live without, like my Grandmother Leona's recipes for Jule Kage and Fattigman Bakels.   But the one recipe that made this cookbook a keeper is the ever-so-easy recipe for rolls which the author, one Selma Eaton (Mrs. Paul), calls Speedy Rolls.  Need to add homemade rolls to your holiday table?  This is the recipe for you:
1 pkg yeast (1 tbsp dry active yeast)
1 cup lukewarm water
3 tbsp sugar
1 tsp salt
6 tbsp olive oil
3 cups of flour
Sprinkle yeast over water and let soften for a few minutes; add sugar, oil and salt.  Mix well.  Stir in flour 1 cup at a time until dough forms.  Turn onto floured board and knead 1 minute.  Place in a buttered bowl, cover and let rise until double (about 2 hours).  Punch down, roll to 1/2″ thick, cut out your rolls.  Space rolls evenly on a greased or parchment paper-lined baking sheet.  Cover and let rise to double again (about 45 minutes).  Bake at 400 degrees for 12- 15 minutes.
Over the years I've altered this recipe in all sorts of ways–adding scaled milk instead of water, melted butter instead of oil and skipping the sugar completely.  (Never skip the salt in bread–yuck.)  But Beef and Cheese Foldover is the best thing I've ever used this recipe for, or so my kids claimed. I mean, what's not to love about fresh, warm bread baked around a filling of barbecue-flavored ground beef topped with cheese?
Beef and Cheese Foldover
1 pd ground beef or turkey or tofu (yes, I've made this with crumbled tofu)
2 cloves garlic
1/2 large onion, chopped
1 red bell pepper, chopped
1/2 to 1 cup prepared Barbecue sauce
salt and pepper to taste
enough arugula leaves to cover the meat when spread on the dough (optional)
4 to 6 ounces block cheese (Cheddar, Monterey jack or Gouda), sliced thin
1 recipe of Speedy Rolls, raised twice, then rolled 1/2″ thick and laid out on a greased or parchment paper-covered cookie sheet.  The dough should be as long as the cookie sheet while overlapping the sides a bit.
Heat over to 350 degrees.  Brown meat, garlic, onion and peppers in a large saute pan.  When cooked through add barbecue sauce, salt and pepper to taste. Spread the meat mixture down the center of the dough.  Leave enough dough open on either side so it will cover the filling completely.   Layer the arugula on the meat mixture, then top with the cheese. Fold the dough over the filling, long sides first, then the ends.  Using wet fingers, soften the edges of the dough so the seams are "glued" shut (flour and water is paste, you know).   Bake 20 minutes.  Remove from oven and slide carefully off the sheet onto a board or dish towel-covered counter top to cool. You can serve this warm or cold or even reheat it.  That makes this an easy dish to take to potlucks, especially if that potluck is in Phoenix.
And that potluck is why this post is being written on Tuesday instead of Monday.