There are many things for which I'm grateful in my life, but until recently I'm not sure I would have put finding this property at the top of that list. Today I think I'm ready to do that.
How I ended living here was a strange experience in itself. The story begins on Memorial Day weekend, 2010, when friends invited us to come camping with them at Dead Horse Ranch. I wasn't very excited about it, but that's because my father had been a backwoods boy. That meant my childhood was spent in a tent every weekend all summer long so he could get his nature-fix. Camping, in this case, meant campgrounds as isolated as our Suburban could handle. Compared to those campsites, Dead Horse Ranch campground is a midtown apartment building.
As we packed up to return to Phoenix, my friend suggested that we take a detour to Page Springs Road and visit the wineries. "There are wineries up here?" was my startled response.
By the time we drove past the fish hatchery my head was spinning. I've lived in Arizona (off and on) since 1980 and like to think I've traveled the state more than most– I've seen the quartz falls outside of Wickenburg, got stuck in sand outside of Carefree, been to the Bisbee Breakfast Club restaurant, fell in love with Jacob's Lake, and got lost in Tonopah trying to buy something off of Craigslist– but I didn't even know Cornville existed and had never been down Page Springs Road. I couldn't believe how beautiful it was.
After visiting the wineries we stopped at the Grasshopper Grill for lunch. That's when my friend's husband threw a real estate flyer at my ex and said, "One of us should buy a place on Oak Creek so we can go kayaking any time we want."
That made me laugh. My ex and I had spent a dozen years building the then-greenest house in Scottsdale. There was no way I was moving. Ever. Period.
Little did I know that God–the Universe, Heaven, Whomever– was conspiring against me.
The ex went back to work the next day but spent his time looking at that real estate flyer. He called me at lunch and said, "What do you think? Should we consider looking?"
My response was "Absolutely not!" We'd moved eleven times, two of them international, over the course of our marriage. I was staying put in the house I'd made my own. He pressed. He insisted we'd ONLY be looking.
At last, I said "Fine, but before we look at anything we have to make a list and it has to be stupid list. Everything you ever wanted in a house has to be on that list."
And it was a stupid list. Here are a few of the requirements: best neighbors in the world, free and unlimited water, on Oak Creek, a barn, a tractor with implements, more than 4 acres, affordable. Our list was so ludicrous that I was utterly and completely certain I was never leaving Scottsdale.
I guess you know what happened. Yep, the second house we looked at. Even that neighbor thing. Al and Elena were having a party that day. They invited us to have beers. We talked about the house and the acreage and its history. We were there for easily forty minutes, then returned to the house and talked with the agent about the possibility of making an offer.
Then we started for home, turning from Page Springs Road onto Cornville Road, and that finger of God thing happened. It's happened to me a few times in my life. My whole body tingles with the knowledge that THIS MOMENT is really important.
I looked at the ex and said, "You know, if you really want that house, I think we need to make the offer today." He immediately turned around and we went to the agent's office. The owner accepted our offer on Monday. Tuesday they had another offer for more money.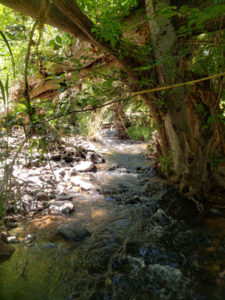 Yeah, meant to be, at least for me since I'm still here, despite the divorce, floods, downed fences, dying cows, escaping pigs and Tiny, who definitely looks like she's going to give me three little lambs around July 1st. She's going to want to give me one of those lambs, I just know it.
Then today, my ranch manager Christina and I went down to the side of the creek to clear away a few of the massive knots of fencing that the flood so kindly made for us. It was hot but working in the water was so nice that we decided to walk up the creek for a way. As we passed under a massive Sycamore tree, we looked up to see a young Bald Eagle perched on a lower branch, watching us. The water deepened, and grew really cold. Before long we were both swimming.
And then we reached a place suitable for fairies. No houses, no road noise, only greenery, trickling water and massive downed trees spanning the creek like bridges.
I ready to admit it. This place was always supposed to have been mine and I'm very grateful that it still is. Who knew I'd become a happy Cornvillian?