When my ex-husband and I bought this place back in July of 2010, we were told that Sam, the previous owner, had upgraded the house from a tiny, tar paper shack to a ~2500 square foot McMansion for his mistress.  Apparently, he and his wife had one of those "agreements".  As it turned out, that remodel was another instance where the man decides what his woman wants and does it for her without asking then is disappointed when it turns out she didn't want it.
Not that I came blame her, but it seems the woman in this case wanted Rodeo Drive, not Cornville.  The truth was that Sam loved this place, using the basement to store his precious antique Jaguar cars as he turned the house into a beloved retreat for him.  That required redecorating in high-end 1980's style including leather couches, Ethan Allen bedroom sets, expensive Berber carpeting– metallic flowered wallpaper in almost every room.
By the way, we bought the house "as is". That meant we not only got the leather couches and the bedroom sets, but collages that included school photos kids, Sam's clothes and shoes in the closets, and a barn filled to the roof with all his collected junk.
Back in 2010 I was still suffering with severe allergies, something that living out here in the country has pretty much ended. Because of that the first thing we did was pull up that carpeting. If you don't know, carpeting the worst thing for anyone with allergies. With every step, your shoes add pollen, molds, and nasty chemicals to the ground-in dirt that fills the fibers. No amount of vacuuming or cleaning every helps. For me, it was better to live with an exposed plywood sub-floor than breathe in that dangerous stew.
It wasn't until 2014 that the as-yet incomplete remodel got far enough to install some new flooring.  I chose cork and I'll tell you now, I'd chose it again in a heartbeat.  It's anti-fungal, anti-microbial, anti-bacterial, soft on the feet and absorbs water without damage.  I love it!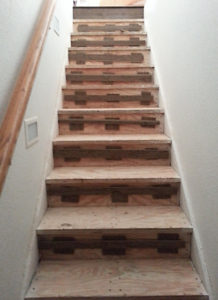 However I never completed the flooring, because I had really hoped to install a new doorway in that second master bathroom and to flip the stairway to provide more floor space for what was to become the new living room. Then last week, reality hit. I wasn't going to be the one to make those changes and it was time to finish the floor. God bless my brother-in-law Courtney Lawyer. He showed up on Friday afternoon with his little table saw and his flooring tools. He took the bathroom and I took the stairway.
For the record I've never laid snap-together flooring. Tile, yes. Linoleum, yes. Anything that requires a table saw, no.  But you know me. If there's a youtube video, I can learn it.  Hah!
As it turned out, the treads were a breeze. The pieces for them required no special cuts except for the length. It was the risers that had me scratching my head. It took scrap pieces to bring the new risers even with the lip of the tread. After I figured that out, I built templates for the pieces I needed. Then it was time to face the table saw.
I stood in front of it, remembering that my first father-in-law had cut off two of his fingers using one. Never mind, that I have used a massive tile saw. There was just something daunting about that spinning blade and how close to it my hands were going to be.  But Courtney had his own job to do and I had to do mine.  Suffice it to say I still have all ten fingers.
By Sunday morning we were both exhausted and sore. We agree. We're too old to do these sorts of jobs. But neither of us were finished. It was do or die, and we did it. Just minutes before Courtney had to leave, I nailed in the last pieces and the stairs were done.
For the first time in seven and a half years, I have finished floors. How wonderful is that!