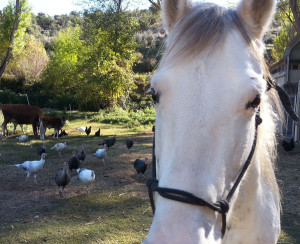 Hope came home two days ago.
No…not that hope.  Hope the Tennessee Walker.  A horse.  His actual name is Bandit's Legacy, but when my next door neighbors bought him they named him "Hope" as in "I hope we can ride him."  Hope replaced Trigo, also a Tennessee Walker, but Trigo–his name is a play on "Trigger" as in Roy Rogers' horse and means "wheat" in Spanish, which was Trigo's color–who made a point of throwing everyone who got on his back.  More than once.
But the day came that my neighbors had to give up riding and their horses.  Mirame ("look at me" in Spanish) went right away.  He was a buckskin Paso Fino and an excellent horse.  Hope lingered, then was sold to a woman who, it turned out, couldn't get him to leave his food trough.  Now this could be because Mirame made a point of bullying Hope over food and this was the first time Hope could indulge himself in eating.  But whatever the reason, she returned the horse, much to my neighbors' consternation as the next day they were leaving on vacation.  So off he went to a local rancher where she did her best to market him.  My neighbors returned home this week and Hope arrived here again the next day.  Only this time he was leaving a herd of mares. Never mind that he's a gelding.  He knew a good thing when he saw it.
Little did he know that he was trading mares for a heifer.
Knowing he would be lonely for his herd, I offered to let him over here until he settled in.  Hannah took one look at the tall, silvery-white, black-dotted BOY and started batting her long black Jersey eyelashes.  She followed him like a puppy,  even tossed her head in his long silvery-white tail.  For the record, Hope may have noticed and appreciated all that cow-adoration, because when Georgie tried the same tail-tossing thing he got kicked.
Then Hope started to run.  That was it.  Hannah was in heaven.  At last!  Someone to run with!  I don't know what it is with calves, but come evening they start running.  It's happened with every calf I've had on the property.  'Round and 'round the pasture they go just before entering the corral for the night.  But, unlike the other calves, who came in pairs, she's had to do her evening runs all by herself.
So, around and around the pastures the two of them went, Hannah at Hope's heels, her big brown eyes alive with pure joy.
Not so the turkeys, although they, too, raced after Hope as he ran circles around the pastures.  It was pretty comical,  Now that the toms are so big, they don't so much run as waddle.  Imagine.  Eighty turkeys, all chasing the running horse and heifer, the toms gobbling up a storm as they did their best to challenge the interloper.
Hope didn't give them the time of day.  I think he was far too busy flirting with little Hannah.