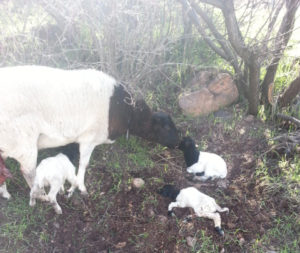 I finally got those stinking lambs…Thursday the 23rd.  Not between 2:00 AM and 4:00 AM as predicted (so all those nightly walks were in vain). Instead, Tiny gave birth to twins, a boy and girl at 11:30 AM. I was there by accident, having just that moment returned from running errands.  Tiny chose to do the deed high on the hillside under a bushy and very thorny tree.  Cinco came to watch as well.  But the guy on the ball was, of course, Moosie.  He watched with fascination as the little lambies were born, then promptly went to help Tiny clean them. Tiny at first tried to drive away the dog, then, after a moment, decided "the more, the merrier" and paid no more attention to her impromptu inter-species nanny.  Moosie is such a strange dog.  Although these little guys aren't anywhere near the size of the calves he adopted, it's obvious he can't wait until they're big enough to play with him.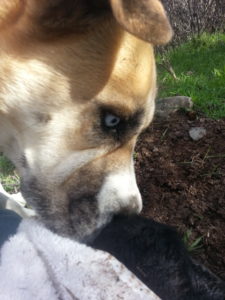 Just when I thought she was finished, Tiny turned around and produced a third baby–a teeny little boy half the size of his siblings. She immediately rejected this third lamb (no doubt thinking she was protecting the babies more likely to thrive) and went back to her twins. Thank heavens Moosie the Nanny was there to lick the little guy clean.  Then my friend Jacquie showed up to take pictures of the newborns.  She arrived wearing her stylish (almost antique) red-flowered Marimekko boots.  After oohing and ahhing over the babies, she agreed to help me move them off the hillside.  When Tiny refused to be moved, we picked up the babies and started away.  That sent the new mother into running panicked circles as she looked for them.
Not wanting to stress her, I reluctantly decided to let her stay there for a bit longer.  But as we put the babies down and started walking away, the twins rushed close to Jacquie's legs.  They were clearly after those pretty boots.  As she started to walk, the babies followed close on her heels.  And close on their heels came Tiny, followed by Moosie.  I brought up the rear with the tiny little guy in my sweater.  Much to our surprise, those boots lured the twins all the way to the sheep pen.  At that point, I knew their names…Mari and Mekko.  What else?
Once in the pen, we tried again to get the new mother to consider her tiny little boy.  It was clear she wasn't having him.   Although she would respond each time he called, when he came closer she would head butt him to drive him away.
I'll pause here to say that I just knew bottle feeding was in my future.  That's because I was scheduled to leave (and did leave–I'm writing this from a wonderful B&B in California) for vacation two days after the lambs came. All I can say is a huge "Thank You", to both Su Petersen and Lea Ann Jundt for coming to the rescue–they'll be feeding and tending the little guy until I return from vacation.  And, since Tiny is no milking sheep and barely has enough milk for her twins, another "thank you" goes out to Doug Morgan and the other goat friends for the donated goat milk.
And what, might you ask, is the little guy's name?  Peanut, because that's what Su calls all her babies before they get an official name.  I thought it fit him, so Peanut he is.  He came into the house, got an official "lamb box", a borrowed bottle and a special formula made from goat milk and a colostrum-heavy yogurt.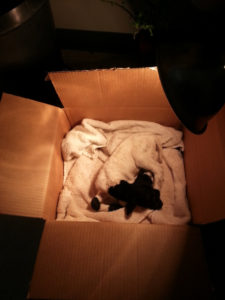 So here I am, enjoying this vacation for all it's worth because once I'm home, I've got a four-legged toddler to feed and wrangle as well as a dog just dying to teach the little guy some useful trick the same way he taught all my calves to dig for gophers.  I really hope it's not "let's chase the cats because they think you're really freaky", but, judging from the cats' reaction to the newcomer, I kind of think that's what it will be.