This is a hard post to write. However, I feel if I don't write it I'd be painting a false picture of farming life. Last week was a week of death.
First, the ravens have been a scourge this year.  Four or so–a family I assume–have appeared every morning around 10:00 AM to steal turkey eggs and newly hatched poults.  At present, my total baby count is eight when last year I had forty.  Although the girls are returning to their nests to lay again, I won't have Thanksgiving turkeys this year.  What's most frustrating about this is there's nothing I can do to stop the ravens except pen my turkeys, which I can't do at this point, not when they're accustomed to free ranging.  Arizona has a $10,000 fine for killing ravens. I'm not sure why.  They sure aren't endangered, at least not around here.  So, all I can do is wait for my hens to adapt to this new threat and repeat the farmer's mantra "Next year."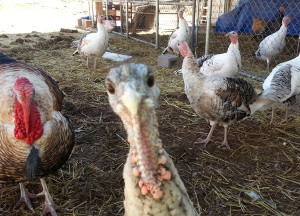 As for my hens adapting, last week I lost the hen I most need to help make this transition, Gabby Gray was one of my two oldest hens and the boldest of all the girls.  I have twice watched Gray attack a Black Hawk as it was dropping out of a tree to steal a poult.  She flew right up at it, back beating her wings, and slammed into the hawk, breast to breast.  Given that she was about 50% bigger than the hawk, both times the raptor decided to retreat.
I lost her because Gray was a stubborn old girl who refused to nest inside the fence.  There was no convincing her that the burrow she created deep in the blackberries wasn't safer than the brooder coop. Nor did penning her into the brooder coop or moving her and her eggs into that pen achieve anything but a hen who abandoned her eggs in her frantic need to escape.
I'm thinking she was taken either by the mountain lion or the bobcat because the dogs went crazy that night.  Ever since he treed the lion, Bear's been really sensitive to the big cats.  At any rate, I heard both dogs barking down at the far end of the property, about where Gray had her nest.  They went on for almost a half an hour.  Sure enough, when I made my way down there the next day all that was left of her were her wings.
I thought I was going to lose her a few weeks ago after something drove her off her nest and ate all her eggs. Javelina, I assume. She returned to the turkey barn depressed.  Seriously, she could barely walk, her shoulders were humped, her neck was drawn in and she refused to eat.  It was three days before she finished mourning.  And then what did she do?  Went right out to that same spot and started laying eggs all over again.  With no way to keep her safe, not without killing her with kindness, I let her go, knowing that whatever had come for her once would come again and she wouldn't likely survive.  I'll miss you, Gabby Gray.
Then Mekko started falling over.
To tell this story I have to go back a few weeks to Cinco's bad behavior.  I don't know why I wanted a ram. He's been nothing but trouble since he got old enough to understand his purpose as a sperm distributor.  Then the lambs were born and, much to my surprise, he became a pretty good dad, watching over his children.  That was, until Mekko hit pubescence.  How did I know that Mekko had become a teenager at only 2 months old?  Because Cinco started mounting him in an effort to dominate.  This behavior was so continuous that Mekko couldn't graze.  At that point I had two choices: pen Cinco or castrate Mekko a month sooner than I wanted.  Of the two choices, castration seemed the better choice.  After all, it was going to have to be done anyway. And, sure enough, within two days of Mekko's banding Cinco went back to being a good dad.
But here's the mea culpa part.  I forgot that I needed to vaccinate Mekko for tetanus at the same time I castrated him.  Tetanus is the one vaccine I wholeheartedly support. (Don't get me started on the others.)  All of my calves were vaccinated at castration. But then I got sheep and somehow the need for that vaccination didn't cross species in my pea brain.  My fault.  I didn't take the time to do the research I needed to do.  Instead, because Toby didn't have any trouble after his castration, I ASSUMED that was the way it was, not that I'd just gotten lucky.
And then Mekko started falling over.  The other sheep were all very concerned about him.  When I'd get him back up, they'd crowd around to hold him upright.  At first, he was able to go back to grazing.  Because of that I thought he might have eaten Locoweed, which is plentiful on the property, but his eyes were clear.  By the third time I found him down, I was pretty certain I knew what he had and I went into research mode a year later than I should have.
What I discovered hit the guilt button big time.  First, sheep, especially newly castrated lambs, are especially susceptible to tetanus. Second, tetanus is especially plentiful in ground where horses have been kept. And third, the bacteria lives in that ground for up to twenty years after infestation.
Horses have been kept on my pastures until two years ago when my neighbors finally sold their last horse, Hope.
Mea culpa.  I killed Mekko.
I often say that farming is about managing death, not about managing life. But this was one death that shouldn't have happened.  I won't make the same mistake again.