November.  That is not a month most folks connect with tomatoes ripening on the vine.  I sure wouldn't have, but there seems to be a lovely little miracle occurring in my new hugelkulture garden. If you recall, back in July I planted San Marzano tomatoes as a reward to myself.  All those months ago I was fairly certain I wasn't going to get anything out of them, having planted so late.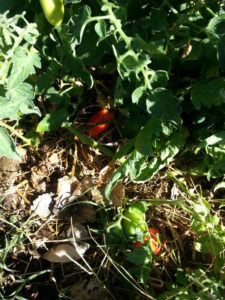 I couldn't have been more wrong. Right now I have three pounds of tomatoes on my counter that need to be processed into sauce. San Marzanos are paste tomatoes. Tasty enough in a sandwich, but spectacular cooked into spaghetti sauce. Those three pounds are what I collected in the last five days. And the plants are absolutely covered with fruit. In November.  After years spent trying to grow San Marzanos, I'm knee-deep in them and so happy I'd do the Snoopy dance only I'd look like an idiot.  It's a sure thing I'll plant them in late June or early July next year.
The temperature on the property hasn't come close to freezing yet. As near as I can tell by the predictions on Wunderground (the weather station is just down the street from me at the Vineyards B and B), the weather is going to hold for at least another week. Although I've only got a few pounds of sauce in the freezer, chances are I'm not going to try to can or freeze any more. Instead, I'll just enjoy a lot of pasta between now and the freeze that is surely right around the corner. So far I've alternated between simple tomato sauce–literally tomatoes and salt cooked down to sauce in olive oil then tossed into string pasta–and my ever-changing variation on Bolognese. As you can imagine I have a lot of ground pork.
Once that freeze hits, I'm going to have pounds of green tomatoes.  There's only one thing worth making out of green tomatoes and that's green tomato chutney. I love the stuff, tangy, tart, a little sweet.  Mixed in equal parts with champagne vinegar, it makes the perfect pan sauce for sauteed chicken.
There's only one little black cloud over all this forthcoming glorious bounty.  Making green tomato chutney requires a gas mask.  While it cooks down the chutney emits an odor akin to the stench of well-worn tennis shoes. Funny how some things can smell awful and taste wonderful. Just in case you want to share the stink with me, here's my recipe, which I believe came from the Moosewood Cookbook
Green Tomato Chutney
2 pds green tomatoes, chopped
2 tbs chopped ginger
2 garlic cloves, minced
1/2 tsp mustard seeds
1 tsp ground cumin
1 tsp ground coriander
2 tsp salt
1 cup honey
1 cup cider vinegar
1 cayenne pepper
Combine all ingredients. Bring to a boil, don your gas mask, then simmer one hour, stirring occasionally. Remove the cayenne pepper. It doesn't need to be canned as it stays fresh forever in the refrigerator. Or you can process the chutney in pint jars in a water bath for ten minutes.