So, when he-who-shall-not-be-named (the dastard!) and I got married, one of the first things he talked about food-wise was Red Cabbage.  His paternal grandmother, fondly referred to as "Oma" mainly because they were Germans and Oma is German for Grandma, had a special red cabbage recipe that he loved and believed lost after her death.  As it turned out my dear friend and former sister-in-law (sisters forever!) Sandy told me last year she's had the recipe since she married the dastard's brother.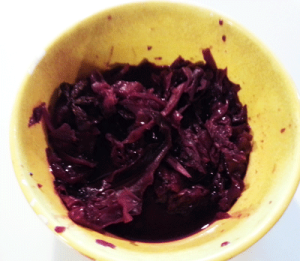 Although I wasn't a cabbage lover and I'd never before eaten red cabbage, I went on a recipe hunt.  Over the years I've added this and that until I have a dish that I seriously love.  And these days I'm the Oma, since that's what my grandkids Judah and Josiah call me.  So this recipe has come full circle and can definitely be called "Oma's Red Cabbage".
Last night I made it to have with Niman Ranch Pastured porch chops.  What a meal…pork doused in a peach vinegar sauce, red cabbage and mashed pumpkin from the garden. But this cabbage really shines as a side dish to Duck.  Now that is truly heaven.
Red Cabbage
1/4 head average-sized red cabbage
1 small tart apple
2 tbsp water
salt & pepper
1/4 cup red wine
1/4 cup white balsamic vinegar
1/2 cup orange or lemon marmalade
1 tbsp ginger root diced
1 star anise
Slice the cabbage into strips and peel, core and chop the apple.  Put them into a large skillet or pot along with the water.  Simmer gently over medium heat until softened.  Add everything else and bring back to a simmer.  Remove the anise after 10 minutes.
Makes about 4 cups of cabbage.