Today I spent an hour in the kitchen with Robert Mumper, a Yavapai County health/restaurant inspector.  My kitchen is provisionally certified to make jams and jellies (and as of today Peach and Raspberry vinegar along with Cranberry Chutney).  I can hardly believe it.  He came, he watched me make a batch of plain old jalapeno jelly.  He said…HE LIKED WHAT HE SAW as far as how I work.
And then he said he thought I would be as busy as I wanted to be because I not only have unusual products but GREAT products!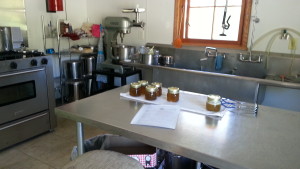 Shortly after I got a call Sybil Smith from ADEQ (Arizona Department of Environmental Quality).  For me to rent out the kitchen, my water has to become a "public water source" and has to meet Arizona standards.  I'd sent her the water test results and we went over what filtration is in the pump house.  Her remark was "You'll have to pay the certification fees and hire an Engineer to do the inspection, but from this report I don't see any reason for you not to be certified."
Four years of struggling, arguing, pleading, conniving, straining to be patient and plain hard work.  I think, just maybe, the corner if finally being turned.  It's now officially a working kitchen and soon it'll be a kitchen for hire, I just know it!   All I need to do now is get Yavapai County Planning and Zoning on board with it…  Fingers crossed!