---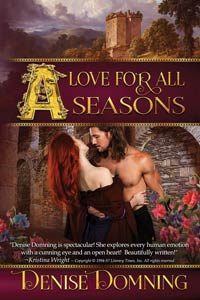 A WOMAN ABANDONED, A MAN BANISHED…AND FAMINE WALKS THE LAND
"In the fifth and final volume of her 'Seasons' series, Domning … provide[s] a well-researched, intensely sensual story of the Medieval merchant class that nicely completes the set." — The Library Journal, © 1996 Reed Business Information, Inc.
"Denise Domning is spectacular! She explores every human emotion with a cunning eye and an open heart…" — Kristina Wright–© 1994-97 Literary Times, Inc. All rights reserved
"This book is so well done, you live the life and the language, smell the odors of unwashed humanity, and hear the sucking sounds as your flimsy shoes slog through mud and muck…. Rob and Johanna will keep you on the edge of your seat, and make your heart swell with love." — Lee Emory
---
A WOMAN ABANDONED, A MAN BANISHED, AND FAMINE WALKS THE LAND 
Johanna of Stanrudde, wife of Katel the Spice Merchant, hates the man her father forced her to marry almost as much as she hates the man who years ago stole her heart and her virginity then betrayed her.
Forced to abandon Johanna by her father, Robert of Blacklea has never stopped loving her.  Now, as famine walks the land, he discovers a plot to destroy her.  He returns to Stanrudde, risking all to protect her from certain death. When Johanna learns Katel is at the root of this plot she must choose to let her husband kill her lover or believe Rob when he vows she has always been his rightful wife.