---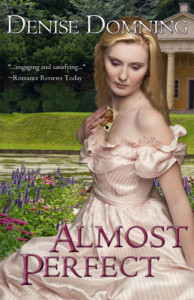 One broken urn, one fallen earl and a kiss for a wager. Add Scotland, an ace up a noble sleeve and a runaway card sharp and let the chase begin!
"Denise Domning … proves herself as a romance author at the top of her game. Filled with compelling, believable characters and storyline …Whether writing Medieval, Elizabethan, or, now, Regency England and Scotland, [Ms. Domning] will capture the reader's attention from first page to last."
~Freelance Reviewer, Carla Arpin
"Readers will enjoy Almost Perfect – just don't play cards with Cassie."
~Harriet Klausner
---
Desperate for funds to protect her sister, Cassandra Marston wagers a kiss in a card game with incorrigible rake Lucien Hollier, Lord Graceton.  Her plan to use him costs her far more than a kiss.  When she and the handsome lord play their second game, she wins every hand and flees into the night with Luciens's money, regretting she will see him no more.
Lucien races after her, only to find her alone and injured in her family's fallen coach. When she dares to feign amnesia,  it's one bluff he's delighted to call.  No matter what he must do, will prove she's a cheat.