---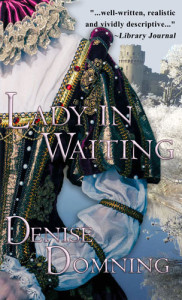 TO DANCE FOR THE VIRGIN QUEEN

"LADY IN WAITING is a wonderful and entertaining historical romance that brilliantly describes the intrigue and power of the court of Queen Elizabeth. Readers will especially enjoy the historical references that are interwoven into the novel by the delightful dexterity of Denise Domning and the secondary characters' abilities to overcome their handicaps. —Harriet Klausner, Romantic Times
"…well written, well researched, with an accurate portrayal of Elizabeth I…" —Publishers' Weekly
---
Commanded by her grandfather to marry a noble husband, beautiful, headstrong Mistress Anne Blanchemain enters the lavish court of Queen Elizabeth. A lamb among wolves, she is easy prey to treachery and an aging queen's jealousy.
Master Christopher Hollier has only one interest–reclaiming the title of Lord Graistan for his invalid brother.
But the dangerous dance of plots to defy crown and country sweep them into events that may ultimately cost them their lives, and their love.